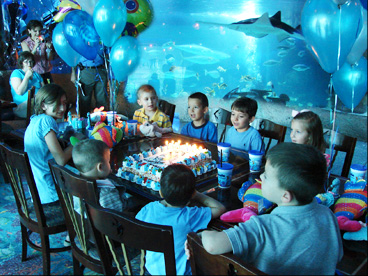 It seems like it's getting more and more difficult to plan a child's birthday party these days. It's not good enough anymore to just slap a piece of cake on a paper plate at the kitchen table. But there's no need to worry or become stressed over planning the bash for your kid – it only takes a few steps to make your life a whole lot easier while still throwing your kid a super fun extravaganza!
Tips for a Great Child's Birthday Party
Plan Early
In order to prevent the stress of last minute plans, you should try and start planning six weeks in advance. Sure, this may seem a little overboard, but you'll thank yourself for it later when you don't have to rush to find entertainment or book a venue. In fact, if your child's birthday is around the holidays, you may want to start planning even sooner!
Don't Have the Party at Home
It can be pretty stressful throwing a party in your home, so why not host your event somewhere fun and educational? It's guaranteed that your child and his or her friends would have a blast at any of these places:
Museum
Aquarium
Science center
Zoo
Petting farm
Rock climbing venue
Fire station
Cooking school
Dance studio
Swimming pool
Get Responses from Everyone
You should have your invitations sent out about four weeks before the birthday bash, and set the reply date for 10 days before the party. This way you'll be able to plan numbers with ease. If you haven't gotten RSVPs from everyone, go ahead and give those who didn't respond a call to confirm if the child will be attending or not. It may be awkward, but it's necessary.
Follow the Guest List Rule
There's sort of a "golden rule" to how many children should be invited to the birthday party: limit the number of guests to your child's age plus one. This means if your son or daughter is turning 5, then you should invite six children to the party. However, in the end, the biggest factor in determining how many guests to invite is your budget. Always stick to your budget!